Material 6
Content protection and CAS/DRM
In this article, we are going to tell you why content needs protection, what CAS and DRM are, what solutions are the most popular ones, and how operators save time and resources with multi-DRM.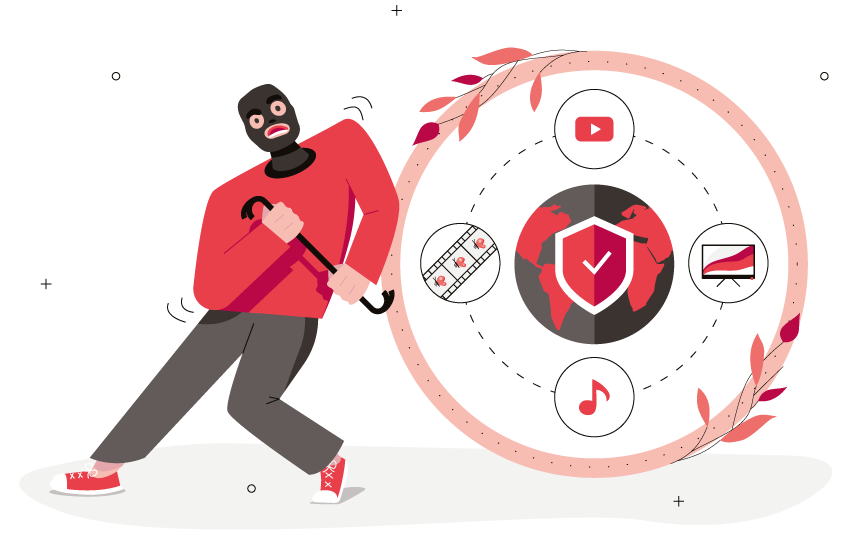 Why content needs protection
Film studios and other companies create content to make money: they rent it to cinemas, resell rights to streaming services, TV channels, IPTV/OTT operators, and release it on DVD and Blu-ray. If content viewing and distribution are unauthorized, it damages the business.
The challenge is that one must deliver video to viewers and at the same time protect it from pirates broadcasting it online or distributing it on physical media. In this case, no one pays for the rights.
What are content protection systems?
Usually, operators buy content from copyright holders rather than create it themselves. For copyright holders to entrust their channels, movies, and series to them, this content needs protection from unauthorized access and copying.
Copyright holders need a guarantee that no one will copy their property throughout its delivery from the operator to the audience. That is why operators implement content protection systems.
Content protection systems are software or software-hardware solutions designed to protect video from copying and distribution on its way from the operator to the viewer.
One of the best ways to protect IPTV/OTT service content is to use CAS or DRM solutions. Their implementation ensures that only the operator's viewers can watch video content.
If a service buys content rights, the contract will specify which CAS or DRM to use. Only on fulfillment of this condition can a company receive channels, movies, and series.
CAS for IPTV content protection
CAS stands for conditional access system. It may be software or hardware that gives viewers access to content only under certain conditions set by an operator.
There can be the following access conditions:
IP address

Device's MAC address

Operating system

Browser type and version
For example, if the provider's set-top boxes run only on Linux, it is enough to set access simply by the corresponding identifier. Devices powered by other systems cannot connect to the service. It also applies to IP addresses and browsers.
But usually, CAS can only protect data in a local network. In the introductory lesson, we said that IPTV operators often use multicast for content delivery within their network. The most convenient way to protect streams in this network is CAS. An operator sends content encrypted the same way for all to a group of subscribers.
DRM for OTT service content protection
OTT operators deliver video via unicast that includes a separate encrypted stream for each viewer. Therefore, it requires a more advanced system — DRM (digital rights management).
While CAS protects access to content, DRM not only encrypts content but also restricts actions with it, such as viewing or copying.
How DRM systems work
Let's imagine that an operator uses DRM. It aims to ensure that only the subscribers can play the stream while no one else can download or distribute the content.
DRM needs to encrypt content to protect it so that only authorized viewers' devices can play the stream.
After a viewer selects a TV show, film, or series, their device requests both a video file and an access key to play it. DRM accepts this request and issues a key after verification that it is an authorized viewer who is allowed access.
Most popular DRM systems
The most widespread DRM systems include Widevine, PlayReady, and FairPlay. Android TV supports the first two by default. So let's talk about their differences.
Widevine by Google. Widevine is a free solution for encryption, adaptive streaming, and content delivery. Currently, five billion set-top boxes, smartphones, PCs, smart TVs, and other client devices support it. Services that use the system include Netflix, Hulu, Disney+, Warner Bros., Prime Video, Roku, etc.
PlayReady by Microsoft. This DRM solution operates not only on Windows devices but also on Android TV, Google TV, Roku, and Amazon Fire TV. Since 2010, Netflix has been using PlayReady as its primary protection system. Over four billion devices support it.
FairPlay by Apple. It operates only via HLS protocol. By using it, content creators, streaming services, and IPTV/OTT operators securely deliver video to iOS, iPadOS, watchOS 7, tvOS, and macOS devices.
How to implement all DRM systems
There is no DRM compatible with all client devices. For example, Android TV set-top boxes support Widevine, while Apple TV media players support FairPlay. To deliver video to different devices, some companies implement multiple DRM systems at once, which takes a lot of time and resources.
However, multi-DRM — an all-purpose solution — exists. By implementing it, an operator receives support for most DRM systems, e.g., FairPlay, PlayReady, and Widevine. Viaccess Orca, NAGRA, Irdeto, Verimatrix, and others offer such platforms.
Multi-DRM allows you to build a multi-screen IPTV/OTT service and fully implement the 'bring your own device' idea. Companies can deliver video to Android TV devices, iOS smartphones, Apple TV media players, and other devices.
Content protection systems are a significant part of a commercial IPTV/OTT service. A reliable CAS or DRM solution will help you receive broadcast rights, protect streams from unauthorized access, and securely deliver streams only to your viewers.
*Google and Android TV are trademarks of Google LLC.
Subscribe to Infomir Academy